What's New: AAA Logo v.4.2
Export to vector files (SVG, PDF, EPS). New templwates and shapes.
Now it is much easier to save logos for printing and edit them in other vector editing software, such as Corel Draw, Adobe Illustrator and others
AAA Logo 2014 (v.4.1)
Absolutely new AAA Logo 4 has many new features, image effects and interface improvements. This page contains new features and improvements comparing to AAA Logo 3.xx
Download AAA Logo to see the latest new features in action!
Image Groups
Available via the Edit, Compose menu, this feature allows to group several shapes into group of shapes and text to ease its positioning, scaling and applying image effects to a group of shapes

Canvas Scaling
It is possible to create image canvas with absolutely any size, from extra small to huge. Create images from small icons for web to large posters for printing

Multiple Selection
By holding the CTRL key you can select several items at ones, move it, apply effects, etc. You can also click somewhere on the canvas and drag to select objects located in a rectangular area

Improved Gradients
AAA Logo now supports linear and radial gradients with any number of intermediate colors and transparency levels with support for presets

Support for Masks
Available via Styles, General menu, it is possible to set overlapping image composition to Knockout and Clipping masks, or Intersection and Addition image composition. Please visit AAA Logo 2014 help via the Help menu, Shapes and Text Styles to get detailed overview of these new features

Much Improved Shadow and Glow Effects
AAA Logo 2014 supports inner and outer shadows and glow effects with control of blur spread and size

New Gloss and Emboss Effects added
Please visit AAA Logo help via the Help menu, Shapes and Text Styles to overview these new to AAA Logo 2014 effects

Improved Strokes and Reflections
You can apply Reflections to individual shapes, text objects and groups. Shape strokes are vector based in AAA Logo 4.0 and supports gradient fills

New Text Warp styles
Text can be warped in Circle (inside and outside), Acr (lower and upper styles), Arch and Bulge

Improved Text Rendering Quality
Text is rendered more precisely and sharper. This is particularly notable at small text sizes and when warp effects are applied. Bold and Italic effects can be applied to any font

Much Improved Interface
Template library has many new template categories and new templates with easy way to it
Styles library has a new look and many colorful presets with support for new effects added to AAA Logo 4.0
New Edit Selected Objects pane appears when one or several objects are selected, and allows you to scale, rotate, change colors, and effects in a simple way
New Interface preview: Main Canvas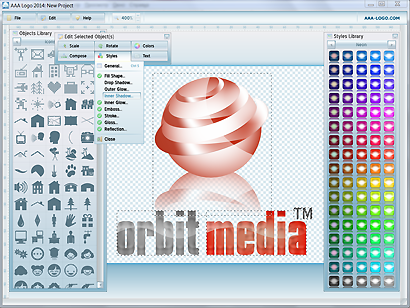 Click to enlarge the image
New Interface preview: Template Library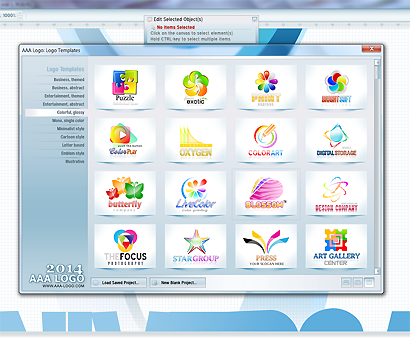 Click to enlarge the image
Download AAA Logo to see the latest new features in action!