Navigation: Making a logo background transparent
Make a background transparent
AAA Logo 2008 allows you to make a logo background transparent.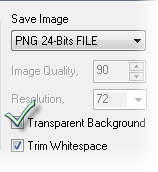 To make a background transparent:
1. Choose Toolbar > File > Export logo for Web.
2. Select the "PNG 24-Bit FILE" item from the "Save Image" drop-down menu
3. Click the "Transparent Background" checkbox to enable transparency.
Once the transparency is enabled, click Continue and save the the image in the dialog that opens.
---